Ground Mount Solar Panels can be installed anywhere in the field that is exposed to sunlight for the majority of the day. Solar energy is captured by solar solutions and used to convert the sun's energy into usable forms. Companies use solar energy to generate renewable energy credits and sometimes return the energy to the main power grid for resale. Solar energy offers the added benefits of being clean, easy to use, and renewable over time. Additionally, shipping and delivery charges are not applicable.
The types of solar panels most commonly used by businesses and homeowners are either ground-mounted or roof-mounted. Ground mount solar panels can be placed anywhere in a yard or field that sees the sun most of the day. Ground installation is similar to pole installation in that it requires dedicated space in a yard or field to prepare the panels. They are a great choice for residential, commercial, or agricultural use, or on any other site where land is available.
The engineering team at Kondaas has a wealth of experience installing solar panels. If you want to go green, you have many options for solar panels, including ground-mount installations. Would you like us to perform a site assessment and benefits analysis to determine the best system for you?
Kondaas will provide expert advice on the best type of solar installation for your needs and your budget. If you don't want to ground mount, we will provide you with a variety of other options so you can make an informed decision. Would you like to get started right away?
WHAT ARE GROUND SOLAR PANELS?
Ground-mounted solar panels are a great way to install solar panels on your property without having to go through a lot of trouble. The panels are similar to solar panels that are mounted on poles, but instead of being elevated on poles, they are installed directly on the ground. The poles support floor-mounted panels positioned for maximum sunlight absorption, with tracking options that allow the panels to move with the sun. Pole lengths vary from a few inches to several feet and can be mounted at different heights depending on the country's terrain.
Advantages of ground-mounted solar collectors:
Choosing a ground-mounted solar panel over a rooftop system has many advantages. Ground-mounted solar panels can be installed almost anywhere with sufficient sunlight and available land. Roof-mounted systems are more restricted due to safety regulations and roof construction. Roof-mounted systems have limited space, so if roof maintenance needs to be done, the solar panels must be removed to complete the repair. Rooftop systems are often inefficient. Increased airflow under floor-mounted panels keeps them cooler and converts energy more efficiently.
How to get started with a ground-mounted Solar plant?
Kondaas is a leading provider of ground-mounted solar systems for businesses across Tamil Nadu. As a certified ADANI Channel Partner with years of experience in green technology, we design and install custom solar energy systems for a variety of applications. Contact the Kondaas Solar team today to learn more about the benefits of installing ground-mounted solar panels, or view a detailed cost-benefit analysis showing how quickly your investment will pay off.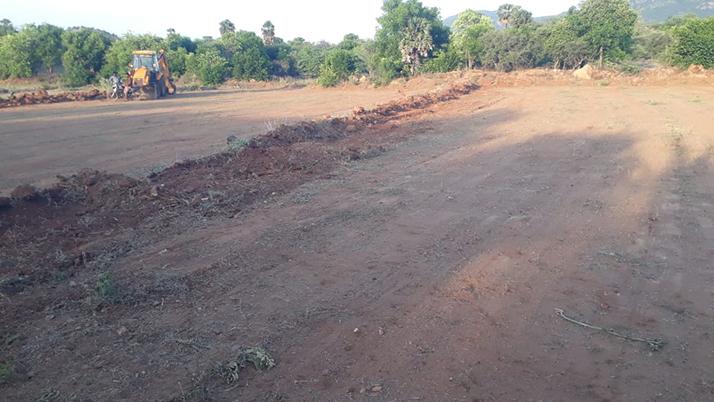 Construction Site of 25 MW Solar Ground Mount Park at Kovilur by Kondaas!
Is Ground-mounted solar fit for agricultural applications?
Farms of all kinds can benefit from ground-mounted solar systems. These farms usually have large open spaces to set up. Farms, ranches and all kinds of commercial ventures related to agriculture require constant energy. Ground-mounted solar panel arrays can provide clean, reliable power anywhere there is sunlight and soil. Farmers often ignore the idea of solar on their rooftops because they have skylights that provide natural light and heat and they don't want to block them. Some have pole sheds and barns equipped. However, there is plenty of floor space.
Advantages of Agricultural Ground Mounted Solar Collectors:
Solar energy benefits farms because even small farms require large amounts of energy for agricultural activities such as:
hot water
building heat
Operation of dryers and belt conveyors
pump water
Operation of milking, drinking and feeding systems
Operation of electric fence
drive greenhouse
lighting and heating
Quality rules apply not only to the panels themselves but also to their installation. The difference between a well-done and a mediocre solar panel installation can be planning to receive a profit within an expected time frame and instead needing to circle back later and invest more money in maintenance and repairs. It's essential to partner with trained, experienced experts you can trust.
At Kondaas, our engineering team has more than 26 years of combined experience performing solar installations for both residential and commercial clients of every size.
WHAT BUSINESSES CAN BENEFIT FROM GROUND MOUNT SOLAR INSTALLATIONS?
Some companies, organizations, and government entities don`t initially think of themselves as good candidates for ground-mounted solar solutions, yet nearly any sector or industry can benefit from it, including:
Apartment buildings and multi-family sites
Factories and industrial business
Farms
Homeowners` associations
Hospitals and healthcare campuses
Government complexes
Land developers
Manufacturing companies
Non-profit organizations
Offices
Parks, campsites, recreational facilities
Retail complexes and sites
Schools
Warehouses
KONDAAS AS YOUR PARTNER FOR SOLAR INNOVATION
Kondaas is a longstanding solar pioneer serving clients throughout Tamil Nadu. As an authorized ADANI Channel Partner, we use the most efficient and advanced PV products on the market today. We can help you harness one of Tamil Nadu's largest natural resources and provide reliable, affordable solar power year-round. For more information, please contact our team directly.
Kondaas' qualified professionals are available to answer common home or business installation questions.
How do I choose the best site?
What do I need to do to prepare for installation?
What type of access do I need to maintain?
Who should I contact at my energy supplier?
How many panels do you need to power your home?
What are my options for power generation?
What features, accessories and hardware does the panel come with?
How is energy metered and how much does it cost?
Later maintenance and repairs It's much better to invest in quality up front than to pay for it.
Cooperation with KONDAAS
Kondaas' engineering team has over 26 years of experience installing solar installations for residential and commercial clients of all sizes. Whether you simply want to add solar power to your home with minimal aesthetic disruption, or you need a complete commercial system that creates lasting value for your business, we can help. It all starts with a comprehensive site assessment. At this time, we discuss options in detail and plan for further development. Contact our team today to learn more about the benefits of a solar power system integrated into your property.