Solar Plant Operations and Maintenance
Optimal Solar Plant Performance in the Expert Hands of Kondaas Automation Private Limited.
In today's current scenario, industrial and commercial companies rely on solar panels and industrial PV systems to avoid power outage issues related to grid supplies. Whether in industries such as paper, steel, chemicals, textiles, cement, dairy, or ceramics, solar panels are fast becoming the norm rather than the option in India. This is driven nationwide by the existence of open-access networks in most states. The PV industry demands well-managed Solar Plant Operations and Maintenance services to keep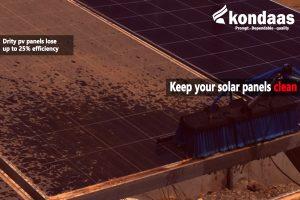 plant performance at par with the required expectations as well as applicable regulations.
As utilities embrace and rely on solar PV grid-connected plants for both commercial and industrial applications, Kondaas Automation has the capabilities as well as experience in all aspects of solar plant Maintenance to help deliver optimal power.
Solar Plant Operations and Maintenance offered by Kondaas!
Consistent solar power plant monitoring is crucial. Utilize our cutting-edge performance management system, integrated platform for maintenance, and remote monitoring technology. Kondaas Automation has unmatched experience in the Maintenance of large utility-scale projects and solar rooftops for the last 10 years. We also offer monitoring of hardware and services, based on the solar-log data logger platform from Germany.
To know more about Kondaas services and products, click here!
Operations and Maintenance Packages
Regular cleaning of solar panels
Frequent maintenance of thermal-based components
Diagnostic testing for low power production
Circuit testing
Earth value measurement
Data acquisition system check
Warranty management
Monitoring energy production (daily basis)
Critical and non-critical reactive repairs
Spare parts and inventory management