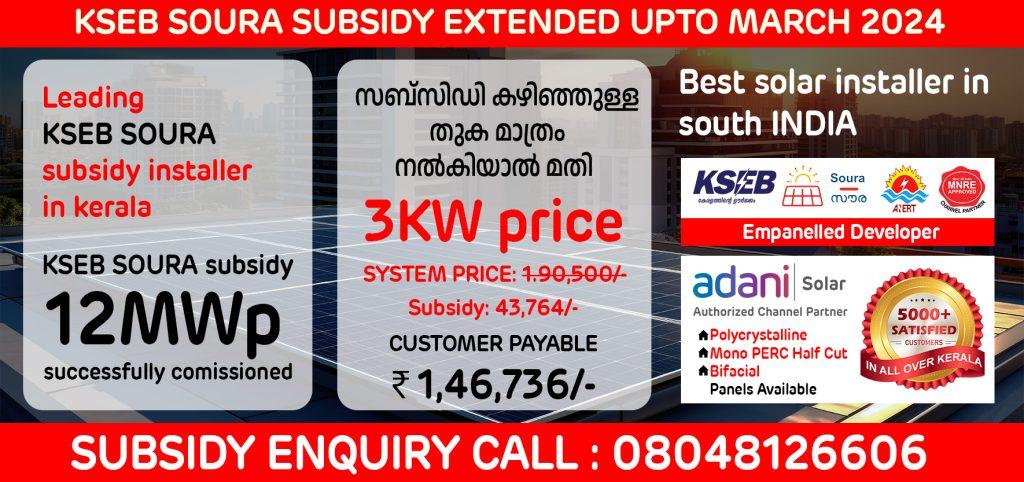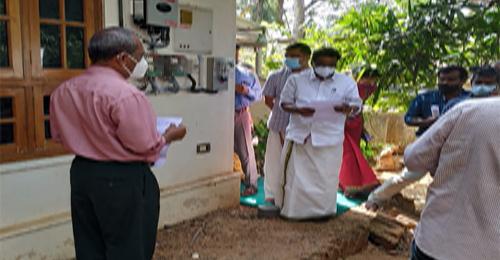 Successfully commissioned the very first Kerala Soura project by
Honourable Mr. A.K.Balan (Electricity Minister of Kerala)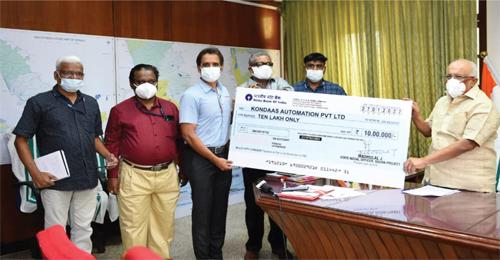 KSEB SOURA subsidy project certificate received from
Mr. Krishnankutty (Electricity Minister of Kerala)
Do you provide any government subsidy through KSEB for solar projects?
Successfully completed 3000+ installations / 10 MW home rooftop solar in Kerala.
We offer best solar installation services throughout Ernakulam, Kannur, Kollam, Kozhikode, Palakkad, Thiruvananthapuram, Wayanad, Alappuzha, Idukki, Kasaragod, Kottayam, Malappuram, Pathanamthitta, Thrissur.
Our services encompass both Home solar solutions and commercial solar installations. Notably, we assist in availing solar subsidies such as ANERT, KSEB subsidy, MNRE, ensuring maximum benefits for our clients.
 The Best Solar Company in Kerala?
Kondaas Automation Private Limited is the leading solar KSEB solar subsidy installer in Kerala, having completed more than 4000 installations of more than 10 MW across Kerala in the last one year. We are ranked No.1 best solar company in terms of the number of installations across Kerala under KSEB Soura scheme, and we are empanelled with KSEB for the KSEB Soura Solar Subsidy, where there is a 40% KSEB solar subsidy for projects upto 10 KW.



Why choose Kondaas Automation Private Limited for your KSEB solar subsidy installation?
Top 5 reason's to choose kondaas
We are the most people's trusted solar company in Kerala with 28 years of expertise, with a proven track record of 12 + MW.
We offer a wide range of solar products and services, including rooftop solar panels, solar water heaters, and solar batteries.
We are empanelled with KSEB for KSEB Soura Solar Subsidy, so you can save up to 40% on your installation costs.
We offer comprehensive turnkey solutions, from design and engineering to installation and commissioning.
We have a team of experienced and certified solar installers who will ensure that your installation is done to the elegant standards.
What is the Soura KSEB solar subsidy project?
With a

3 KW solar plant

under this program, you can generate

600 to 720 units

of electricity in billing cycle, resulting in substantial homeowner savings.
Comparatively, purchasing the same power from KSEB typically costs around

Rs 4,500/-.

This initiative promotes sustainable energy generation and offers significant financial benefits by reducing electricity expenses.
Hence, we can reduce the carbon footprint and safeguard our environment and country.
What sets us high, and what are the high-quality solar products we offer?
We are the high in class and top most authorized solar panel channel partner for

Adani solar

in India, who is a most leading and trusted brand in solar industry.
And we offer high quality branded inverter such as

GROWATT, SOFAR, SOLIS,

for high power efficiency with module level optimization and remote monitoring.
Quality is a paramount consideration not only for the major components but also for the smallest components used in our solar power plants.
Our solar panels come with a highest in class of 12 years of direct manufacturer's product warranty and a 30-year limited performance warranty (direct OEM).
And we offer

AMC with 5 years

free service with our country's first in house builded Sophisticated kondaas Smart mobile application for solar generation tracking.
Who are our customers?
We specialize in solar system installation services throughout Kerala, catering to a wide range of customers, including residential, commercial, and industrial clients.
Our in-house teams for solar structural design and fabrication enable us to deliver comprehensive waterproof solar power plants with robust and waterproof solar structures.
Our services span across a wide geographical footprint, Ernakulam, Kannur, Kollam, Kozhikode, Palakkad, Thiruvananthapuram, Wayanad, Alappuzha, Idukki, Kasaragod, Kottayam, Malappuram, Pathanamthitta, Thrissur. We have dedicated teams for these locations and leverage an extensive dealership and service network to ensure accessibility to our solutions.


Why kondaas is the best solar company in kerala ?




A Best solar on grid roof top solutions provider in the south India. Head office (Coimbatore) Regional Head office (Thiruvananthapuram, Kerala)
specialist in home solar system and residential solar in Kerala
Approved empanel developer in MNRE
Backed by the well-regarded and trusted kondaas brand which had a google review of 4.8 out of 5
Highest Quality Solar Power Products in Kerala
kondaas provides high quality ready to Install Solar Kits in kseb soura subsidy project in Kerala.
We offer KSEB subsidy solar solutions in Kerala, as part of the ANERT program initiated by the Kerala Government.
We offer KSEB subsidy solar projects in Kerala through the ANERT Solar Connect Scheme.
We deliver customized and cost-effective, high-quality clean energy solutions to our valued customers
KONDAAS has over 120 reliable Solar Dealers across Kerala to cater to your Solar Power needs.
In Thiruvananthapuram,kerala kondaas has a regional head office for solar.
kondaas is a leading solar company for residential solar in Trivandrum, UNDER SMART CITY & KSEB SOURA AND MNRE
In Kannur, Kondaas has Authorized Dealers for solar,kondaas is Kannur's leading residential rooftop solar provider, under KSEB – SOURA – MNRE – ANERT.
Kondaas, a prominent solar energy company in Kozhikode, proudly serves as the authorized dealer for solar solutions. As Kozhikode's leading residential rooftop solar provider, Kondaas offers a wide range of solar products under KSEB – SOURA – MNRE – ANERT.
Kondaas, a leading solar company in Wayanad, has established authorized dealerships for solar energy solutions. They have a strong track record of serving both residential and commercial customers in Wayanad, with a focus on providing specialized expertise in ANERT and KSEB subsidy programs.
Click here to register with KSEB E-kiran Portal for the Soura Scheme with your KSEB consumer number.
Note: To use Solar Rooftop Portal, all Consumers are required to register their mobile number and email ID with KSEB. Please access KSEB Web Self Service with your registered mobile number and email ID.
In Ernakulam, 439 home solar system have opted for rooftop solar installations, collectively generating 1.7 MW of clean energy. This significant adoption of solar power in Ernakulam can greatly benefit the environment and reduce energy costs for these residents.
In Kannur, a total of 401 residential solar systems have been installed, contributing to a collective capacity of 15 megawatts through the KSEB SOURA ANERT subsidy program.
In Palakkad, 397 residential solar systems have been installed under the KSEB SOURA ANERT subsidy program, with a combined capacity of 1395.57 kilowatts
In Malappuram, 383 residential solar systems have been installed with a total capacity of 1493.24 kilowatts, thanks to the KSEB SOURA ANERT subsidy program.
In Thrissur, 378 residential solar systems have been installed, collectively generating 1264.1 kilowatts of power under the KSEB SOURA ANERT subsidy program.
In Trivandrum, 344 residential solar systems have been installed, producing a total capacity of 1184.75 kilowatts under the KSEB SOURA ANERT subsidy program.
In Alappuzha, 322 residential solar systems have been installed, generating a combined capacity of 1159.74 kilowatts through the KSEB SOURA ANERT subsidy program. For information about the best solar company in the area, it's recommended to conduct thorough research and consider consulting local reviews and recommendations.
In Kollam, 228 residential solar systems have been installed, delivering a total capacity of 810.79 kilowatts under the KSEB SOURA ANERT subsidy program. When seeking the best solar company in the region, it's advisable to conduct research, explore customer reviews, and obtain local recommendations for a well-informed decision.
In Kozhikode, 228 residential solar systems have been installed, collectively generating a capacity of 815.775 kilowatts through the KSEB SOURA ANERT subsidy program. For guidance on the best solar company in the area, it's advisable to conduct research, review customer feedback, and seek local recommendations to make an informed choice.
In Kottayam, 143 residential solar systems have been installed, contributing to a total capacity of 489.44 kilowatts under the KSEB SOURA ANERT subsidy program. When seeking the best solar company in Kottayam, Kerala, it is recommended to conduct through research, read customer reviews, and seek local recommendations to make an informed decision.
In Wayanad, 62 residential solar systems have been installed, with a combined capacity of 168.595 kilowatts, thanks to the KSEB SOURA ANERT subsidy program.
In Pathanamthitta, 61 residential solar systems have been installed, generating a total capacity of 198.54 kilowatts through the KSEB SOURA ANERT subsidy program.
In Kasaragod, Kondaas serves as the authorized dealer for solar solutions, and it is the leading residential rooftop solar provider in the area, operating under the KSEB, SOUR, MNRE, and ANERT programs.
In Idukki, Kondaas serves as the authorized dealer for solar solutions and is the leading residential rooftop solar provider in the region, operating under the KSEB, SOUR, MNRE, and ANERT programs.
Kondaas is recognized for providing high-quality solar panels in the states of Kerala and Tamil Nadu. Their commitment to delivering reliable and efficient solar solutions has earned them a strong reputation in these regions. Whether you're a homeowner or a business looking to invest in solar power, Kondaas can cater to your solar panel needs.
Certainly, discussing solar panel prices is essential for individuals and businesses interested in transitioning to solar energy. Kondaas is renowned for supplying high-quality solar panels at some of the most competitive prices in the market. Here's a content piece highlighting the key points Quality Assurance, Competitive Pricing, Customized Solutions, Regional Expertise, Customer Support, Warranty Assurance