Kondaas-Off-Grid Solar System
Enjoy an energy-efficient home with a smart Off-Grid solar system from Kondaas.
The Off-Grid solar system is a battery-based, independent solar system that does not need a utility grid to illuminate your places & it is a complete solar setup with solar panels, solar batteries, and solar inverters, and it is ideal for lighting a home even in a far-off location. The solar system is more prominent as it comes with a power backup. It is also referred to as a standalone solar power system. These systems are completely independent of any power grid. The use of solar power is most prevalent in rural areas where grid electricity is not available or where the cost of electricity is high. When it comes to solar energy, it is best to generate your own power by installing a solar power system.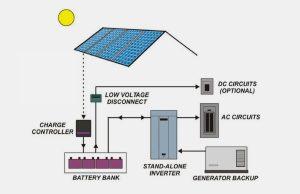 It is used to collect and store solar energy to be used by household appliances. These systems typically range in wattage from 100 watts to 5 kilowatts. Off-Grid solar systems use solar panels, a controller, and a battery to generate power. Kondaas Off-Grid solar system can be used in a variety of applications. Off-Grid solar systems or in other words off-grid solar kits are not connected to a utility company. They can't restore power to the grid. They store the energy produced by the solar system in the battery bank. The design incorporates solar photovoltaic panels and an inverter. A photovoltaic panel converts sunlight into electricity that can be used by appliances connected to battery storage.
Why Kondaas ?
One the largest residential rooftop solar Off-grid Installers in India
Ranked among the top Solar Rooftop EPC companies for 7 years in a row*
Over 100000 + satisfied customers
26 years of experience with 54.2 MW+ of installations
Excellent service support, for complete peace of mind