Residential Ongrid Rooftop Solar Solutions
Enjoy an energy-efficient home with smart Ongrid rooftop solar solutions from Kondaas.
As more homeowners become aware of rising utility bills and the negative environmental impact of fossil fuels, solar power is beginning to dominate the roost as a sustainable energy source.  Kondaas helps you effectively convert your roof into a solar power station. With a one-time investment and our experienced team, you can expect to significantly reduce your energy costs while playing a key role in reducing the carbon footprint of your environment. Yes, you are right. It lasts over 25 years with no fuel costs and little maintenance.
Why Kondaas for Ongrid Rooftop Solar Solutions?
One of the largest residential rooftop solar Ongrid Rooftop Solar Solutions in India
Ranked among the top Solar Rooftop EPC companies for 7 years in a row*
Over 100000 + satisfied customers and we are excited to share the review of our valuable customer Mrs. Anju Noushad, and after installing the On grid solar rooftop panel(10Kw) the EB bill has been reduced from INR 14300 to INR 217. Click the link below for her experience with Kondaas.
https://www.kondaas.com/electricitybill_before_and_after_solar_installation/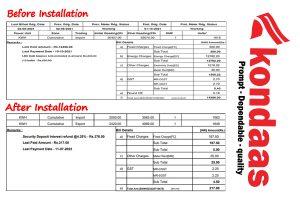 Kondaas Smart – The Realtime Monitoring System
Kondaas Automation has implemented a state-of-the-art monitoring system.
The system enables remote monitoring and management of solar rooftop solar plant
Live Performance monitoring; data tracking and analysis
Proactive maintenance and support opportunities to maximize asset uptime
Users have real-time access to asset performance
Notifications and maintenance intervention alerts
The Kondaas Edge!
With 26 years of experience in solar and distributed energy, we are pioneers in the solar energy revolution in India. With innovative ideas and matching products, our team strives to provide dynamic solutions that meet all your specifications. One phone call and we'll be there in no time!
We have a team of cost-conscious industry experts with the best know-how to design and implement any type of project for maximum benefit to our clients.
Innovation, experience and cost are all in our favour. Look no further.