ETC (Evacuated Tube Collector)
Evacuated Tube Collector (ETC) Solar Water Heater
KONDAAS offers a complete range of solar water heaters at par with international quality standards. Advanced Evacuated Tube Collector model (ETC). Non-pressurized Models to meet specific requirements. Domestic Range starts from 100 liters to 500 liters.
Application
Suitable for : Houses, Apartments, Hotels, Resorts, Hospitals, Hostels, Processing Industries, Boiler Feed Water & Canteens.
How it is different from the products of other manufacturer
Advance Non Welding Technology to handle HARD Water Problems.
High Performance ETC Collectors – Best Temperature Output even on
Cloudy Days.
Advanced Non vent Design – To avoid air pipe cost and related
problems.
Superlative high density PUF insulation for long hour heat retention.
Premium Marine Grade Stainless Steel for longer Life.
Turbulence preventer – avoid hot and cold water mixing.
Maintenance:
Regular inspections and regular maintenance are necessary for the efficient operation of photovoltaic power generation systems. Additionally, components may need to be repaired or replaced from time to time. Also, steps should be taken to prevent scaling, corrosion and freezing.
You may be able to perform some inspections and maintenance tasks yourself, while others may require a qualified technician. Work that involves climbing ladders, walking on roofs, soldering or hot work, or pruning branches should be done by a professional service for safety reasons.
| | | | | | |
| --- | --- | --- | --- | --- | --- |
| Capacity | 100 Lts | 150 Lts | 200 Lts | 300 Lts | 500 Lts |
Solar Water Heater – ETC Model Technical Specifications
Length (Nominal)
1500 MM – 1800 MM
Outer Tube Diameter
47 MM – 58 MM
Inner Tube Diameter
37 MM – 47 MM
Glass Thickness
1.6 MM – 2.0 MM
Material
Borosilicate Glass 3.3
Absorptive Coating
Graded A1/N/A1 ALN/AINSS/CU
Vacuum
P 5 10-3 Pa
Thermal Expansion
3.3 10-6/0c
Stagnation Temperature
>2500 C
Absorbance (AM 1.5)
>93% (A1/N/A1) / >96% (ALN/AIN-SS/CU)
Emittance (800C / 1760F)
<8% (A1/N/A1) / <5% (ALN/AIN-SS/CU)
Heat Loss
<0.8w (m20

c

)
Startup Temperature
<= 25°C (77°F)
Collector shading
Collector soiling
Collector glazing and seals
Plumbing, ductwork, and wiring connections
Piping, duct, and wiring insulation
Roof penetrations
Support structures
Non-Return valve (on liquid solar heating collectors)
Controls
Flat plate collector (FPC)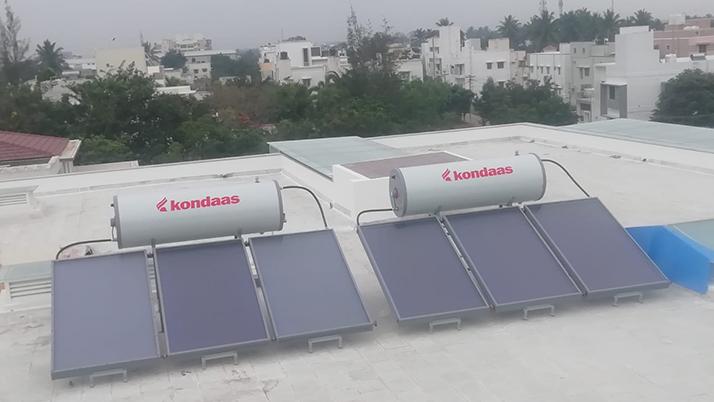 Application
Suitable for : Houses, Apartments, Hotels, Resorts, Hospitals, Hostels, Processing Industries, Boiler Feed Water & Canteens.
Flat Plate Collector (FPC) Solar Water Heater
These models come with a Selectively coated continuous electroplating of glass enamel that greatly increases their life expectancy as solar water heaters. The model is more reliable in areas with hard water. At Kondaas Automation, we are committed to renewable energy using advanced technology to ensure that our solar water heaters provide maximum benefits. We use High Density PUF to keep solar water warm for a long time.
The tanks are made from food grade (304) Stainless steel / marine grade (316) stainless steel/with glass enamel coating, which makes them clean and hygienic which is absolutely free from fungal formation, bad smelling and water color change. With Kondaas Solar Water Heater you can help make our environment cleaner and add to the green energy supply. We are undergoing a continuous process of upgrading our systems and machinery to international standards.
| | | | | |
| --- | --- | --- | --- | --- |
| Capacity | 100 Lts | 200 Lts | 300 Lts | 500 Lts |
Technical Specifications of Kondaas FPC Solar Water Heater:
| | |
| --- | --- |
| Absorber material | Material Electro Grade-Copper |
| Absorber Coating | Selectively coated continuous electroplating of Glass enamel. Chrome over nickel substrate on copper sheet, with Heat treatment to withstand temperature. Up to 300 deg C. Absorptivity=0.96+/-0.02, Emissivity = 0.12+/-0.02. |
| Riser | Copper Tube – Dia 12.7 mm x 0.54 mm Thick |
| Header | Copper Tube – Dia 25.4 mm x 0.71 thick |
| Bonding between Fin &Tube | Ultrasonic/Tig |
| Back Insulation | Resin Bonded Rock wool of 48 Kg/mc, thickness 50mm. |
| Side Insulation | Polyurethane / Rockwool of thickness 25mm. |
| Collector Box | 2000mm x 1000mm x 100mm |
| Collector Bottom Sheet | Aluminum/G.l of Thickness 0.71mm. |
| Glass | High Efficiency Low Iron Grade solar toughened glass |
| Insulation | Rock wool – 50mm thick |
| Side Insulation | PUF – 25mm thick all round |
| Internal Lining | Aluminum foil – 30 micron |
| Fin Coating | NALSUN – Black selective coating with > 93% absorptivity |
| Box Material | Aluminum extrusion |
| Back Sheet | Aluminum / Gl sheet riveted firmly to box frame: 9 |
| No of Fins | Nine (9) |
| Connectors | Brass flange / Threaded connectors at all ends |
| Flange | 4 inches |